Our lives are surrounded by labels and overlays, from the small warnings on tools to the stylish faceplate on your dishwasher. The most obvious are mundane or maybe even boring (and might be easy to scratch off with a wandering fingernail); the others, like that faceplate on your dishwasher, might be why you purchased the unit in the first place. Some are simple, others masquerade as art, and many more have functional as well as decorative qualities. The control panel on your microwave may have started its life as a printed overlay before it was injection molded in place, for example.
This wide variety of functions and requirements leads to a wide variety of printing methods. Sure you could print a high-end label on an office copy machine, but for most applications, you wouldn't want to.
Quantity, price, colors, size, materials, and durability are some of the variables that factor into the production of a label or overlay. Need a small order as soon as possible? Then digital thermal transfer printing might be the best option. It has the shortest lead time at DuraTech. However, if the label also needs to be of a very high print quality—better than 300×600 dpi—or larger than 11.8" wide, then digital inkjet printing may be the best balance of speed, quality, and price.
So, what print method will be best for your label?
How DuraTech Prints
DuraTech Industries utilizes three types of printing: screen printing, flexographic printing, and digital printing. Here is a brief explanation of each:
Screen Printing
Screen printing is the act of using a squeegee to push ink through a screen stencil, onto a substrate (material). Graphics are broken down into their separate colors, with each color getting its own screen, and then printed one color at a time. Despite the more labor-intensive nature of screen printing, this method produces an excellent image, with a minimum line width of .005" and 5pt font. Halftone and 4-color process images can be printed up to 102 DPI. DuraTech has a robust screen printing department, offering a wide variety of sizes, substrates, colors, and even textures and specialty inks.
Flexographic Printing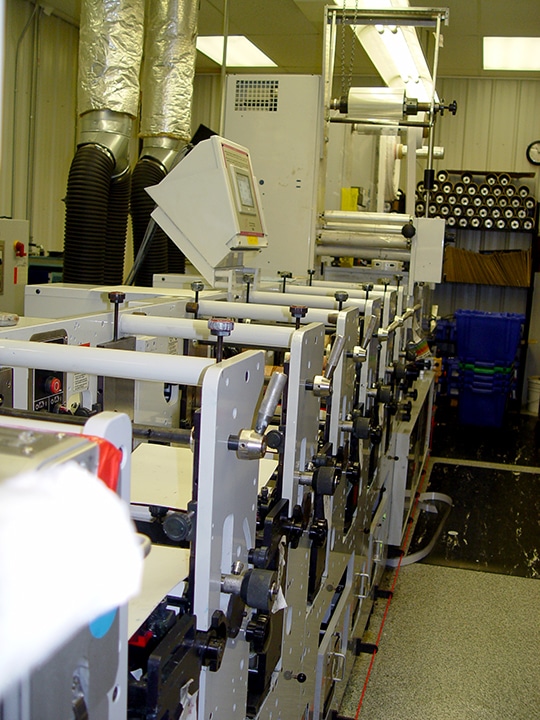 Flexographic printing, also known as roll-feed rotary printing, is an impression-based style of printing where rotating flexible plates press ink onto a label. Like with screen printing, each color requires its own plate, though unlike screen printing, flexographic presses can hold up to six plates at a time, printing those colors in one pass. This means large quantities of labels can be created in a shorter amount of time. DuraTech's flexographic printing produces an excellent image, holding up to 120 DPI for halftone and 4-color process.
Digital Printing
DuraTech offers two digital print options: thermal transfer and inkjet. Because digital printing doesn't require screens, the pre-press charges and set up charges are typically less than for screen printing.
Thermal transfer printing involves using a heated print head to transfer colored foil onto a substrate. It offers good quality print resolution on a variety of substrates with a wide variety of printed color options. Like with screen printing, each color requires its own foil and print pass, but minimal set up and a relatively quick print time allow for speedy throughput of orders.
Inkjet printing is a widely-used technology in the print industry, where droplets of ink are dispensed and cured on a substrate based on a digital file uploaded to the printer. DuraTech's printers are high quality, with an expanded color spectrum due to the addition of white, orange, purple, and green to the standard CMYK (cyan, magenta, yellow, and black) colors typically used. DuraTech's printers have the capability to be able to print up to an 8' x 5' image at 720 x 900 DPI.
The Best Printing Method Is…
Because there are so many variables in label and overlay requirements, there is no gold-standard printing method that accurately covers them all. A dishwasher overlay can be screen printed in both mid- and high-volume orders, but it can also be produced for smaller quantities on a digital inkjet printer. The key is in what the label needs.
Think about what makes your part unique, that artistic or functional element that cannot be compromised under any circumstances. Perhaps your label needs clear windows for LCD screens, or perhaps it needs to be printed on a very specific type of material. Maybe there are durability requirements; maybe your brand requires very specific color matching. Different print options have different strengths and weaknesses—for example, while flexographic printing offers excellent color matching, it is not typically used for parts that require a clear window.
Next, consider the function of the label or overlay. Does it need to withstand harsh conditions like UV exposure, or will it stay indoors? Does it need to be embossed? What about featuring variable data, like serialized numbers? Screen printing offers excellent outdoor durability and the ability to be embossed but has limitations if parts need to be serialized. Inkjet printing, meanwhile, is capable of producing serialized parts but may not be the best option for outdoor exposure without printing on UV specific materials.
Finally, consider pricing, order quantity, and turn time. Screen printing is a fantastic option for most printed parts, but it comes with a higher price tag and lead time due to the set ups required. Flexographic and thermal transfer printing provide faster production options and may be cheaper (flexo for high-quantity orders, thermal transfer for low-quantity orders), but both have size limitations. Inkjet printing is a great, all-around option for most labels, but once again, features its own set of limitations.
If you're concerned about needing to make too many compromises, don't be. The process planners at DuraTech Industries are experts and will help you find the best option for your part.
In Summary
Screen Printing
| Advantages | Limitations |
| --- | --- |
| Color customization and color matching | Typically higher price |
| Opaque and transparent color options | Lead times |
| Printed parts with windows | Variable data |
| Outdoor durability | 4-color process, dot patterns, and gradients need special consideration |
| Printed parts can be embossed | |
| Mid to high-volume orders | |
| Material options | |
Flexographic Printing
| Advantages | Limitations |
| --- | --- |
| Price | Inks are slightly less opaque than screen printed colors |
| High-volume orders | Window and texture options |
| Lead times | Widest material width is 10" |
| Variable data | |
| Color consistency | |
Thermal Transfer Printing
| Advantages | Limitations |
| --- | --- |
| Price | Lower print resolution |
| Lead times | Widest print area is 11.8" |
| Low-volume Orders | No selective texture or adhesive options |
| Variable data can be printed | Foils have ferrous materials so cannot be used on equipment with magnets |
| Good durability even without over-lamination | More limited printed color options than other methods |
| Offers some UL approved constructions | |
Inkjet Printing
| Advantages | Limitations |
| --- | --- |
| Price | Printing is not as opaque as screen printing |
| Lead times | Special considerations for embossed parts |
| Low and mid volume orders | Not as outdoor durable without UV specific materials |
| Highest print resolution 720 x 900 dpi | Some colors, like grays, may be difficult to match |
| Good for 4-color process, gradients, and halftones | No metallic color options |
| Variable data can be printed | |
| Offers some UL approved constructions | |
Want a copy of our comprehensive printing comparison chart?