Welcome to DuraTech Industries®
Thank you for your interest in our company. You'll find that we have built a solid reputation in our industry by listening to our customers—really listening—and then developing the custom solutions they need. You will find the DuraTech team to be flexible, creative, and highly proactive—making your job easy when it comes to sourcing products from us.
Having multiple manufacturing facilities gives us the flexibility to be very competitive—from producing large, complex jobs to making just a few sample parts for the marketing department. We are one of very few printers that have plants in both the U.S. and Asia.
We have earned the trust of our customers by providing exceptional products and services on-time and within budget. Give us a try! We greatly value input, feedback, and opinions, so please use dtwebinquiries@duratech.com to send us your thoughts.
Warm Regards,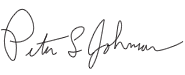 Peter Johnson
President