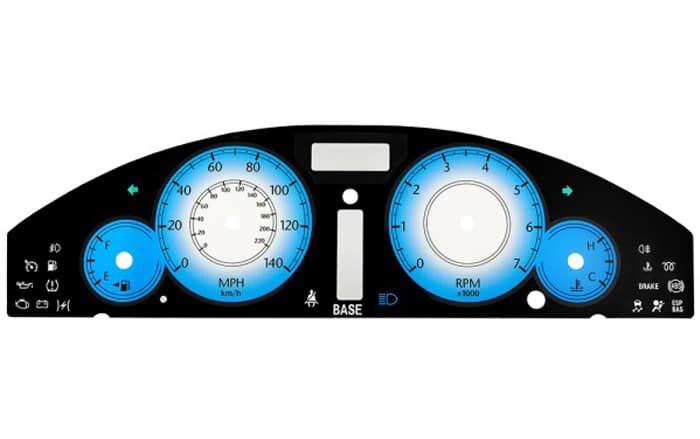 We create custom gauges and dials to exact specifications for a wide range of measuring equipment and metered applications. From speedometers to pressure gauges and much more, our custom products are used across a variety of industries, including industrial manufacturing, tools, automotive, aerospace and more. Gauges and dials can be made from plastic or aluminum substrates, or a combination of both, and we use our printing and graphics expertise to create the ideal solution for your unique application.
Our capabilities and common applications
We use our custom printing and material converting services to create durable, aesthetically pleasing gauges and dials based on your requirements. We work with your art files and follow strict process controls to ensure reliable accuracy in the final product. We can also die cut components or provide other material converting services to create finished products that reduce assembly time and boost manufacturing efficiency. The gauges and dials we produce are used across industries to provide accurate measurements for industrial machinery, automotive applications and much more.
Tachometers

Pressure gauges

Water pumps

Gauge clusters

Speedometer

Clock faces
We can produce custom gauges and dials from a number of different materials, including mixed materials in the same part. This versatility helps ensure we deliver the optimal solution based on your project requirements.
Our materials options include:
Plastics
We work with a variety of plastic substrates in different durometers to accommodate various design needs. The two most common plastics we work with are polycarbonate and polyester.
Metals
When durability is of the utmost importance, we can also print gauges and dials directly onto metal substrates. Aluminum is the most common metal we use for these products.
Formed parts
We also have the capabilities to create durable 3D parts using advanced thermoforming equipment.
Design and finishing options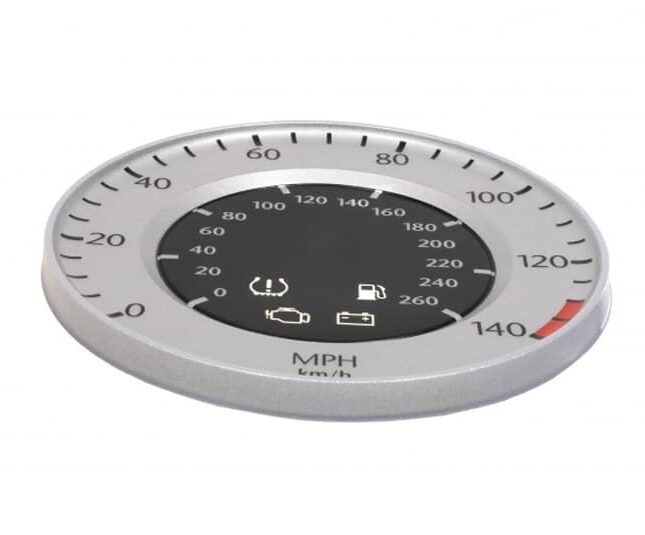 We offer a variety of finishing options to customize the look and feel of your gauges or dials. Whether your design calls for backlighting, a custom color, or you simply want a custom pattern to help your product stand out, we have the printing and finishing capabilities to meet your needs.
Backlit graphics
Dead-front graphics
Embossing
Color matching
Gradients and fades
Custom patterns
Brushed patterns
Specialty inks such as chrome ink