Safety is the most important aspect of manufacturing, both in production and in the final product itself.
This is a statement we can all agree on, but it's also a statement we tend to apply to careers and products deemed dangerous. Mechanics, doctors, electricians, and farmers all deserve safe working environments and tools, but so too do accountants, custodians, or even watchmakers. The peace of mind a safe working environment brings is simply too important not to have.
Certifiers abound, but the oldest company in the business is Underwriter Laboratories, best known by their shortened logo found on most electronic devices, UL. Founded in 1894, they have standards and testing procedures for just about everything, from portable electric lamps (UL 153) to signaling devices for the hearing impaired (UL 1971) to marking and labeling systems (UL 969).
As a company specializing in high-end labels, it is that last one we are most interested in.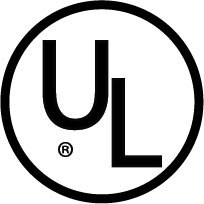 UL 969 covers:
Adhesive-attached labels for use as permanent nameplates or markers; bearing information, instructions, or identification in the form of text or pictographs
Unprinted materials used by label converters to produce finished labels, such as blank label stocks, overlaminations, laminating adhesives and screen-printable adhesives
Specific combinations of label material, ink, and printing process evaluated as a system
DuraTech Industries has over 70 types of polyester, vinyl, aluminum foil, and polycarbonate that meet UL recognition standards. These materials have been tested for indoor use, outdoor use, humidity, water exposure, and of course, extreme temperatures.
This means that we can print finished labels that are UL recognized without the hassle of expensive and time-consuming tests. For customers who need to add their own layer of print, such as adding custom serial numbers to parts, we can print those too.
Because labels are made of individual layers—substrates, ink systems, laminates, adhesives—we are able to mix and match our materials to suit customer needs while maintaining UL recognition. Think of it like a big bucket of Lego bricks, only less painful to step on. You know what you need to build, and we have the pieces to do so. In some cases, we can even provide the instruction manuals. Our process planners understand that meeting UL compliance can be confusing, and we are more than willing to help ease the process.
To see a complete list of our UL-recognized materials, please visit UL iQ for Labels and search DuraTech.
For those new to UL and/or the exciting world of high-end labels, here are five questions to consider when designing and quoting parts:
Will the part be used indoors or outdoors?
Underwriter Laboratories has different temperature and humidity requirements for indoor and outdoor parts, meaning that, while a polycarbonate may be UL recognized, the scope of that recognition might not fit your needs. For example, PC7961MP is a .005" – .020" polycarbonate that is rated for both indoor and outdoor use. It was tested on 12 different surfaces at -40° C up to 100° C. PC200MP is also a .005" – .020" polycarbonate; however, it is only rated for indoor use with testing parameters of 0° C to 80° C.
What are the application surfaces?
While we have plenty of UL-recognized adhesives, not every adhesive is created equally. Some adhere to certain substrates better than others. UL has strict requirements for permanence. Per the 969 Standard:
"A label…shall adhere to the test surface without any significant curling or loosening…greater than 10% of the label area…. It shall not excessively craze, shrink more than 10% of the label area, or slip from its original position on the test panel more than .2 inches (5.1mm)."
DuraTech's adhesives have been tested to a wide variety of substrates and temperatures, but just because an application surface or condition is not listed doesn't mean your part can't meet UL requirements—it just means it hasn't been tested yet. Let's return to the PC7961MP polycarbonate. It has been tested to many commons surfaces and temperatures, but that's a far cry from all of them. If you needed to adhere this material to substrates outside our listed scope, we can request additional testing to add your conditions to make the label UL-compliant.
How do you want your parts printed?
Screen printing is DuraTech's bread-and-butter; however, it's not always the right choice for our customers. For those in need of something less complicated, we do offer an extensive range of UL-recognized materials for digital and flexographic printing. Of those materials, ten can be both screen and digital printed, allowing for flexibility in design and pricing.
Do you have permission to print the UL logo?
In order for us to print the UL logo onto a part, all parties involved need permission from UL. This is done to avoid copyright violations and for UL to insure no one is bootlegging their logo on untested products, parts, or components. DuraTech Industries has—and maintains—permission to print the UL logo on parts for customers that need it by subscribing to UL's "authorized label suppliers program."
Is your part outside our current scope of UL approved materials?
While this isn't a question you can answer without our help, we are willing to partner with business to expand our UL-recognized materials should it prove beneficial for both parties. The process for this partnership is:
A general assessment on the parts needed, including type, quantity, materials, and order repeatability
An agreement to share the cost to have the parts tested by UL
New material construction around customer specifications
Printed samples approved by the customer and sent to UL for testing
A wait of three to six months for the testing to be completed
It all comes back to safety.
UL compliance can be confusing, but we're here to help. Because we all have a right to a safe working environment and living space, from our power tools right down to the voltage sticker printed on our phone chargers. So if you need a high-end label for your product, or if you'd simply like to learn more about us, Underwriter's Laboratory, or both, please contact us here or at info@duratech.com.