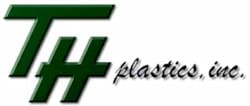 DURATECH SOLVES INK CRACKING PROBLEM TO KEEP IN-MOLD LABEL PROJECT ON TRACK
When TH Plastics was faced with a confusing and difficult in-mold labeling challenge, they needed a cost-effective solution, and quickly.
"They had a very, very small processing window," said BJ Tully, account manager at DuraTech. "We needed to find a solution that could keep the program on schedule."
A long-time DuraTech partner and collaborator, TH Plastics is a custom injection molder based in Michigan, with facilities in Ohio. The two companies have worked together many times to create in-mold labels (IMLs) for backsplash assemblies used in GE appliances. DuraTech prints the labels and TH Plastics handles the molding process.
In 2022, GE was looking to launch a new washer and dryer program and wanted to use a different finish in the printed label. They worked with DuraTech's team to create a custom label which was tested and went through a trial production run before moving to larger scale production.
The problem came during downstream assembly when GE engineers noticed the ink was cracking on the IMLs. Engineers and quality technicians didn't see any sort of ink cracking in the IML itself before it was molded, and then once it was molded, the ink cracking would appear.
Part of the problem was that black ink shows more stress than some other colors. It is also harder to cure black ink in the printing process, which can affect flexibility. If the printed ink isn't flexible enough, it can crack or present other issues. Because the project had a short timeline and TH Plastics wanted to avoid making any process changes in their production line, they needed a cost-effective solution that wouldn't significantly delay production.
Flipping for a solution
After some testing, the team arrived at a creative solution: flip curing.
For this particular IML project, product designers wanted the front — or first surface — of each IML to feature a hard, protective coating. So, during the printing process, DuraTech actually printed on the backside — or second surface — to create the graphics that users see. The UV ink used in this project typically cures to about 90%, which is standard in the industry, but a more complete cure can make the ink more flexible. So, the DuraTech team used flip curing where label sheets are physically flipped over and UV light is shone through the material to achieve a complete cure.
By reworking the parts in this way, the team was able to eliminate the issue and keep production on schedule.
"We flip cured 600 IMLs at their facility so they could meet an immediate pilot deadline," said Tully. "Then we proceeded with doing it in-house at DuraTech where we flip cured the other 11,300."
Tully said the project speaks to DuraTech's technical prowess and ability to deliver solutions for their customers.
"We have a lot of technical experience across the entire team," Tully said. "We're always quick to offer solutions or testing at no charge to help our customers when they need us."
Working towards long-term solutions and continued success
While flip curing worked to keep the appliance program on schedule, DuraTech and TH Plastics continue to work together toward a permanent solution. Engineers are exploring multiple paths, including using UV pads or pulling away the solvent to expose the UV layer beneath it. Whichever solution is ultimately chosen, TH Plastics and DuraTech will continue to work together to build on their shared success for many projects to come.