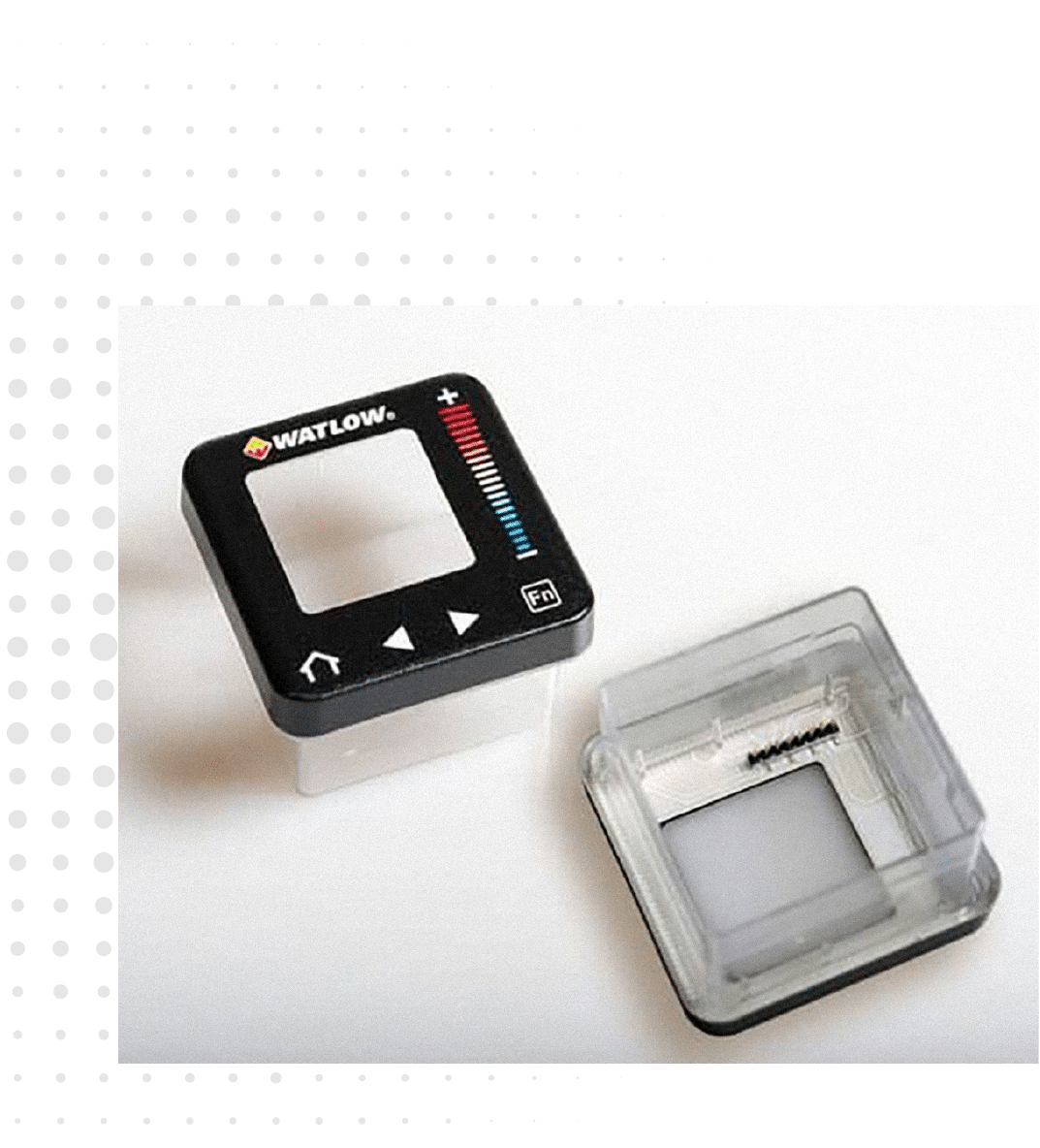 DURATECH CREATES ONE OF THE FIRST IN-MOLD ELECTRONICS (IME) PRODUCTS IN THE U.S.
When engineers at Watlow® wanted to improve durability for an industrial controller, they turned to DuraTech. Together, they pioneered a truly innovative solution, creating one of the first in-mold electronics (IME) products manufactured in the United States.
"DuraTech is proud to help Watlow become an early adopter of in-mold electronics," said Paul Hatlem, DuraTech's sales manager. "DuraTech is one of the first companies worldwide in production of this exciting new technology."
In-mold electronics embed flexible, printed circuits between layers of plastic to protect them from the environment, and reduce weight and size while improving reliability. The form, fit and function requirements of Watlow's controller made IME a perfect solution.
Developing an innovative solution
The project started in 2018 when Watlow, a leader in industrial technology and thermal products, wanted to create a new version of a legacy product, a thermal controller used on industrial ovens and a range of other applications. The legacy version of the controller
featured silicone buttons that weren't fully waterproof. By switching to an IME construction — which is fully waterproof because all electronics are encased in plastics — the team sought to improve durability and extend the life of the product. Watlow also valued the design flexibility provided by in-mold decorating (IMD), which allows you to easily change designs to feature brand logos or other custom elements.
Having worked with DuraTech extensively in the past, the two companies came together to develop the IME manufacturing process. Watlow took the lead on the electronics while DuraTech spearheaded efforts on the faceplate and other layers of the IME stack-up.
After finalizing product designs, custom molding, forming and cutting tools had to be built and the team went through multiple rounds of prototyping to finetune manufacturing processes, materials and design. The product also went through extensive UL testing to ensure it meets all regulatory requirements and industry standards.
One of the biggest challenges was header visibility from the front surface. The feet were pushing through the plastic during the
molding process and leaving visible marks on the front surface. But the team was able to develop unique ink systems and molding processes that eliminated those marks, which hadn't been accomplished previously by other companies.
Because of the complexity and challenges involved with innovating new technology, the entire process took several years to get everything up and running. But the result was the Watlow PM Plus™, an extremely durable, versatile and aesthetically pleasing industrial controller that enhances the user experience.
"They're really nice controllers," said Rob King, DuraTech's project manager who led the effort for the DuraTech team. "It's Bluetooth compatible, has a more intuitive interface and it's just a really nice product."
A partnership based on trust
This was a major project for one of Watlow's key product lines and featured new technology, so maintaining trade secrets was of utmost importance. As such, the team involved in the product development process was relatively small. The effort was led primarily by Rob King and Mark Hoven from Watlow, with assistance from other engineers on staff. King said that by working together so closely to solve technical problems and overcome production hurdles, they developed a level of trust that ultimately helped to elevate the entire project.
The small team also meant some unconventional methods were required to see it through to the end. But their efforts showed the dedication and commitment to customer service that DuraTech brings to every project.
"I can't tell you how many times I drove to Minnesota, driving parts up and meeting Mark in parking lots on the side of the road to drop parts off," King remembers fondly. "It was quite an interesting launch."
Optimizing IME processes for the future
Ultimately, the project proved that IME and in-mold structural electronics (IMSE) are viable production methods that can be relied upon to create quality, durable products. Moving forward, DuraTech engineers will continue refining manufacturing processes to optimize IME technology for future projects. But the experience of working with Watlow will always be notable for being perhaps the first successful IME project in the U.S., and will prove valuable in shaping future IME success.
"I've launched hundreds of projects in my life," King said. "But to come up with this new technology and have a happy customer at the end of the day, this one tops the list."
Looking for a custom graphics manufacturer with proven success developing in-mold decorating (IMD), in-mold electronics (IME) or in-mold structural electronics (IMSE) solutions? Request a quote or contact DuraTech today to learn how our experience and technology can add value to your business.

© 2023 Watlow Electric Manufacturing Company. Used by permission. All rights reserved.